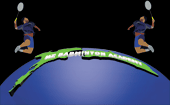 Allow me to introduce myself.
My name is Ji Hyun Marr but everyone calls me Super G because when I am coaching I am always super excited and seem to have endless amounts of super power!
I was originally born in Korea and took part in the Olympics twice; Atlanta and Sydney Olympics in 1996 and 2000 respectively. As a professional shuttler my best ranking was World number 2 just before taking part in my first Olympics in Atlanta. After that I was consistently a world top 10 ranked player and have played in the Korean National Team for over 10 years.
After the Korean Open in 2000 (now known as the Korean Superseries) I decided to become a professor in physical education which required an overseas university degree, thus I started my overseas journey into New Zealand.
From there I started my coaching career, helping numorous individuals, clubs and assocations around New Zealand as well as going back to take the role as a Korea National Women Single's coach and actively participated in the 2012 Olympics just been.
March 23rd, 2013 by nizsmo
Category: General News